Quick Links
Forums
74.9K

Musical Conversation

62.4K

Collective Argument

3.5K

IC Talent Area

39.6K

Entertainment

362

Archives
What's up everybody! Just a quick message. We will be relaunching AllHipHop.com with the goal of keeping the community front and center. I have worked with Jamal and select moderators, to make sure The Illl Community's needs are being addressed as we evolve. We are encouraging you to use the new platform.
We will NOT be closing the current community, but we will be porting user data over to the new system over time, so please get used to using the new community!
We will be working on it every single day until it's exactly what you want!
Please feel free to join now, test, as we are in beta:
https://www.allhiphop.com
Video.. Rep. Steve King: What Other 'Subgroup' Gave More To Civilization Than White People…
http://talkingpointsmemo.com/livewire/steve-king-white-people-civilization
Rep. Steve King (R-IA) on Monday challenged the other participants on an MSNBC panel to name a "subgroup" that contributed more to civilization than white people.

That smoking hot take came moments after Esquire writer Charles Pierce declared that the 2016 Republican National Convention would be the last time "old white people" would command the attention of the Republican Party.

"This whole business does get a little tired, Charlie," King said. "I would ask you to go back through history and figure out where are these contributions that have been made by these other categories of people that you are talking about, where did any other subgroup of people contribute more to civilization?"

"Than white people?" MSNBC host Chris Hayes interjected.

"Than—than western civilization itself that's rooted in western Europe, eastern Europe and the United States of America, and every place where christianity settled the world," King said. "That's all of western civilization."

"But what about Africa, what about Asia?" reporter April Ryan asked.

Everyone on the panel then began furiously speaking over each other.

"We are not going to argue the history of civilization," Hayes said, trying to get the segment back on track.

"Let's argue the history of this country, okay?" Ryan said.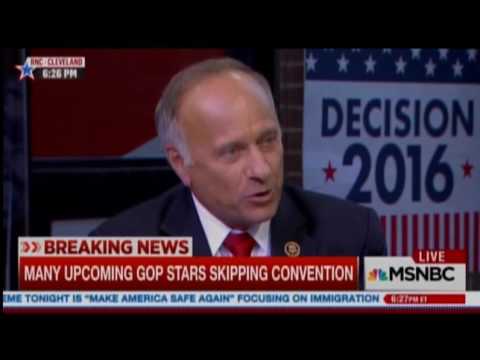 "Every generation has its own evil. But our evil is a different kind of evil — our systems are evil." - Rev. Nicholas Richards