Quick Links
Forums
74.9K

Musical Conversation

62.4K

Collective Argument

3.5K

IC Talent Area

39.6K

Entertainment

362

Archives
What's up everybody! Just a quick message. We will be relaunching AllHipHop.com with the goal of keeping the community front and center. I have worked with Jamal and select moderators, to make sure The Illl Community's needs are being addressed as we evolve. We are encouraging you to use the new platform.
We will NOT be closing the current community, but we will be porting user data over to the new system over time, so please get used to using the new community!
We will be working on it every single day until it's exactly what you want!
Please feel free to join now, test, as we are in beta:
https://www.allhiphop.com
Adolf Trump Says Inner Cities More Dangerous Than 'War Zones'...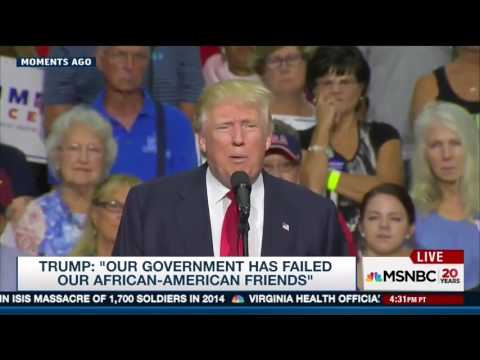 http://www.mediaite.com/online/trump-says-inner-cities-more-dangerous-than-war-zones/
Speaking to supporters in Akron, Ohio, Monday evening Donald Trump continued his appeal to minority voters by saying that inner cities were more dangerous than "war zones."

"Our government has totally failed our African-American friends, our Hispanic friends, and the people of our country period," Trump said.

He added: "Poverty, rejection, horrible education, no housing, no homes, no ownership, crime at levels that nobody's seen. You can go to war zones in countries that we're fighting and it's safer than living in some of our inner cities."

"What the hell do you have to lose?" he said, repeating his now-familiar pitch to minority voters, with whom he is polling very poorly.

"Give me a chance. I'll straighten it out. I'll straighten it out," he added.
"Every generation has its own evil. But our evil is a different kind of evil — our systems are evil." - Rev. Nicholas Richards