Quick Links
Forums
74.9K

Musical Conversation

62.4K

Collective Argument

3.5K

IC Talent Area

39.6K

Entertainment

361

Archives
What's up everybody! Just a quick message. We will be relaunching AllHipHop.com with the goal of keeping the community front and center. I have worked with Jamal and select moderators, to make sure The Illl Community's needs are being addressed as we evolve. We are encouraging you to use the new platform.
We will NOT be closing the current community, but we will be porting user data over to the new system over time, so please get used to using the new community!
We will be working on it every single day until it's exactly what you want!
Please feel free to join now, test, as we are in beta:
https://www.allhiphop.com
Somebody Explain the Fat European Dudes in Speedos Movement
Forget burkinis - now some of the French want to ban fat men in Speedos
http://www.telegraph.co.uk/women/life/forget-burkinis---now-france-wants-to-ban-fat-men-in-speedos/
The Southern Comfort man in tiny trunks CREDIT: YOUTUBE
Telegraph Reporters
26 AUGUST 2016 • 9:32AM
After the controversial burkini ban that has been introduced in some parts of France, people are now calling for another beach-related moratorium.

Many social media users have suggested the French government would do well to forget burkinis entirely, and focus on something far more offensive: fat pasty men in Speedos.

As one woman on Twitter writes: "If France are banning burkinis then they really should ban Speedos too because they are 100x more offensive to everyone having to view it."

Others have called into question the morality of a man being able to expose most of his body in Speedos, while a woman cannot cover up her skin.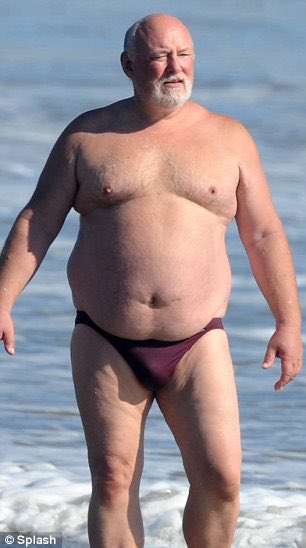 The tweets follow a satirical news report from The Mideast Beast, which reported that Muslim women were demanding the criminalisation of fat, white men in the tight swimwear.

The recent burkini ban has been widely criticised, after a lone Muslim woman on the beach in Nice was ordered to remove hers.

She was deemed to be in breach of French law, which has declared a ban on the full body "Islamic" wetsuit-like swimwear, in 26 towns, on the grounds that it is a conspicuous demonstration of religious belief.
You don't get this shit too over here, but over on the French Rivera, on the Mediterranean, and other spots where these cats tend to vacation at you tend to get this shit. Now they would be pushing it and looking hella sweet if they were hella swoll wearing this shit, but these muthafuckas are hella out of shape tryin' to highside. Are they out on these European beaches crusin' for slong?