Quick Links
Forums
74.9K

Musical Conversation

62.4K

Collective Argument

3.5K

IC Talent Area

39.6K

Entertainment

362

Archives
What's up everybody! Just a quick message. We will be relaunching AllHipHop.com with the goal of keeping the community front and center. I have worked with Jamal and select moderators, to make sure The Illl Community's needs are being addressed as we evolve. We are encouraging you to use the new platform.
We will NOT be closing the current community, but we will be porting user data over to the new system over time, so please get used to using the new community!
We will be working on it every single day until it's exactly what you want!
Please feel free to join now, test, as we are in beta:
https://www.allhiphop.com
CNN fires Trump apologist Jeffrey (Douche)Lord over his 'Sieg Heil!' tweet...
http://talkingpointsmemo.com/livewire/cnn-drops-jeffrey-lord-after-he-tweets-nazi-salute
CNN Drops Pro-Trump Analyst Who Tweeted Nazi Salute In Response To Typo

CNN on Thursday cut ties with pro-Trump political commentator Jeffrey Lord after he tweeted the words "Sieg Heil!" at a liberal activist who pointed out a misspelling in his headline.

"Jeffrey Lord is no longer with the network," a CNN spokesperson told TPM by email. "Nazi salutes are indefensible."

Lord on Thursday tweeted a link to his column criticizing the "fascist spirit" of Media Matters for America president Angelo Carusone, whose surname he misspelled "Corusone."

"Why do you expect anyone to take you seriously when you don't take yourself seriously," Carusone replied.

Lord responded with a Nazi salute.





The exchange was the latest volley on Carusone's and Lord's public disagreements. Carusone on Wednesday said one of Lord's columns was "bullshit and filled with lies," an allegation Lord responded to in his later misspelled column.

Lord made headlines in 2015 when he suggested Republican strategist and CNN contributor Ana Navarro could not be an American and a Latina at the same time.

In 2016, he called the Ku Klux Klan a "leftist terrorist organization" and said House Speaker Paul Ryan (R-WI) was "racist" for condemning Trump's attacks on a federal judge because of his Mexican heritage.

Most recently, Lord drew ire in April by calling President Donald Trump "the Martin Luther King of healthcare."
I'm so shocked that Trump has fans of Nazis supporting him.. Oh wait..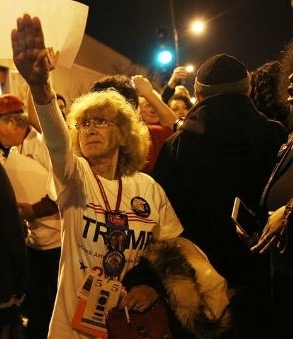 "Every generation has its own evil. But our evil is a different kind of evil — our systems are evil." - Rev. Nicholas Richards
Tagged: