Quick Links
Forums
74.9K

Musical Conversation

62.4K

Collective Argument

3.5K

IC Talent Area

39.6K

Entertainment

361

Archives
What's up everybody! Just a quick message. We will be relaunching AllHipHop.com with the goal of keeping the community front and center. I have worked with Jamal and select moderators, to make sure The Illl Community's needs are being addressed as we evolve. We are encouraging you to use the new platform.
We will NOT be closing the current community, but we will be porting user data over to the new system over time, so please get used to using the new community!
We will be working on it every single day until it's exactly what you want!
Please feel free to join now, test, as we are in beta:
https://www.allhiphop.com
Video: Los Angeles Deputy Shoots Partner, Blames Suspect; Both Kill Suspect in Retaliation...
http://www.ocweekly.com/news/new-video-footage-shows-noel-aguilar-shot-from-behind-by-la-county-sheriff-deputy-in-long-beach-6844726
Gruesome cellphone video has surfaced showing the fatal deputy-involved shooting of Noel Aguilar in Long Beach last year. Around 10 a.m. on May 26, 2014, Aguilar rode his bike near 69th Way and Long Beach Boulevard when two Los Angeles County Sheriff Deputies tried to stop him for wearing headphones. After an initial struggle, the 23-year-old fled by foot. When deputies caught up to Aguilar, they tried to arrest him. "During that handcuffing process, Mr. Aguilar broke free and he grabbed onto one of the deputy's guns," LA Sheriff's Department Lt. Steve Jauch told NBC4-TV back on June 6, 2014.

Cellphone footage obtained by the Weekly starts rolling when deputies are on top of Aguilar after the foot chase. "Is it a gun?" deputy Albert Murad asks his partner Jose Ruiz. "It's a gun, it's a gun," Ruiz responds. "You fucking move, I'm going to kill you bitch," Ruiz tells Aguilar. The two deputies attempt to cuff Aguilar when he wiggles his hand free. Aguilar tries to get up, holding on to the gated fence nearby. Moments later, after a gunshot rings out, deputy Murad screams and says he has just being shot in the stomach. "I didn't shoot nobody," Aguilar says.

After more struggling, Aguilar turns to his side and asks why deputy Ruiz has pulled out his gun out. The deputy then fires a shot into Aguilar's stomach. His partner quickly reaches for his own gun and fires three shots at Aguilar. The deputies can be heard saying to each other that Aguilar had tried to grab a hold of their weapons. Authorities said that Aguilar's gun had been recovered from the scene.

"The first shot is not justified because the victim is very vulnerable, he's on his side," Angel Carrazco, an attorney representing Aguilar's mother and child, tells the Weekly. "The other three shots from the back, every single one of those is unjustified. For me, it seems like it's murder."

The footage shared by Carrazco's Tustin-based law firm has been enhanced, slowed down in key spots and transcribed. "We got the video through an independent witness that was there," he says. "This is evidence that we've had in the last twenty days." Carrazco is handing the new evidence over to the Department of Justice, FBI, U.S. Attorney's office and the Los Angeles County District Attorney's office in hopes of bringing criminal charges against the deputies involved. The attorney is already in litigation for a civil suit brought on behalf of Aguilar's family.

The day after the shooting, the Orange County Register ran a headline on the Aguilar killing that says the man, a documented gang member, had shot the deputy on scene. Further investigation by the LASD showed that the gunfire came from the other deputy's weapon and that Aguilar's weapon hadn't been discharged.

How the deputies handled Aguilar after he had been shot is also a matter of concern, Carrazco says. "He's facing down after being shot four times and they're on top of him," Carrazco says. "There needs to be a medical conclusion to find out whether they were trying to get him to asphyxiate or bleed to death. By the video, it seems like they were trying to do both." Aguilar can be heard screaming, "I'm dying!" while onlookers berate the deputies in English and Spanish that they shot him in the back and to get off him because he's dying.

The family of Noel Aguilar protested the shooting in the streets of Long Beach alongside activists. "We want justice for the family," Carrazco says, in the form of criminal prosecution. "I believe police brutality has been going on for years," the attorney adds. "Filming has changed the game because an image will tell a thousand words."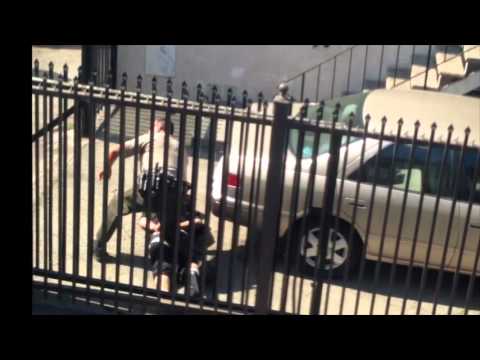 "Every generation has its own evil. But our evil is a different kind of evil — our systems are evil." - Rev. Nicholas Richards